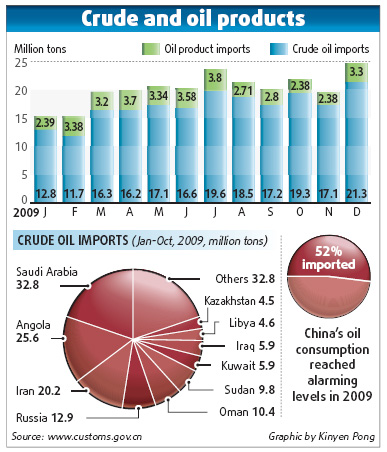 China's oil imports will continue to see solid growth this year, with more than half of the country's total oil consumption coming from abroad, industry insiders said.
It is inevitable for the country - the world's second largest oil consumer - to see a robust increase of imports, as domestic production cannot keep up with rising demand, they said.
China's oil dependency reached alarming levels last year with imports accounting for 52 percent of total consumption, China Business News reported yesterday, citing Zhang Xiaoqiang, vice-minister of the National Development and Reform Commission.
Importing more than 50 percent is a globally recognized level for an energy security alert.
The country's oil imports in 2010 are expected to grow five percent from a year earlier, and the proportion of imported oil consumed may further rise to 54 percent this year, said Lin Boqiang, director of the China Center for Energy Economics Research at Xiamen University.
"Domestic production is already at its peak," he said. "Although domestic companies have accelerated their overseas expansion, the resources they already gain are still limited."